Every woman dreams of being feminine even while driving a car. In this article, we will help to reveal all the subtleties of what kind of fur coat to buy for driving. If you want to get an expensive fur purchase, then you should read this article so that a fur coat for a car fits perfectly.
A fur coat for a car is an important point to which a woman should pay special attention. In today's world, a car is essential. If we are talking about the fair sex, then there are some nuances of choosing a mink coat for a car. Currently, shop windows are overflowing with different models and styles of mink coats, however, not all models are ideal for driving a car. Few people know that the car every year harms the fur. Therefore, it is worth knowing about all the intricacies of a competent combination of a fur coat and a car.
Fur coat for car lady
It's no secret that a fur coat for a car should please its owner with high quality for as long as possible.
The optimal length of a fur coat for a car should be such that it does not touch the floor, because in this case it will be uncomfortable for you. The most convenient option is a shortened version of a fur coat to the waist or slightly above the knees.
The most comfortable model of a fur coat that covers the hips along the length. It is strongly not recommended to choose a fur coat with voluminous collars, edging, voluminous sleeves, so that nothing interferes with driving.
One of the most popular styles of fur coats is the "balloon" model, you should also pay attention to fitted models. Perhaps you should give preference to a fur jacket.
For more information about which fur is preferable, and which fur coat is most suitable for a car, consider below.
Choosing a fur coat for the car
In order for a fur coat to serve you for many years, then stop at fur that is wear-resistant. Perhaps you should opt for a fur coat made of skins of North American origin with a low awn.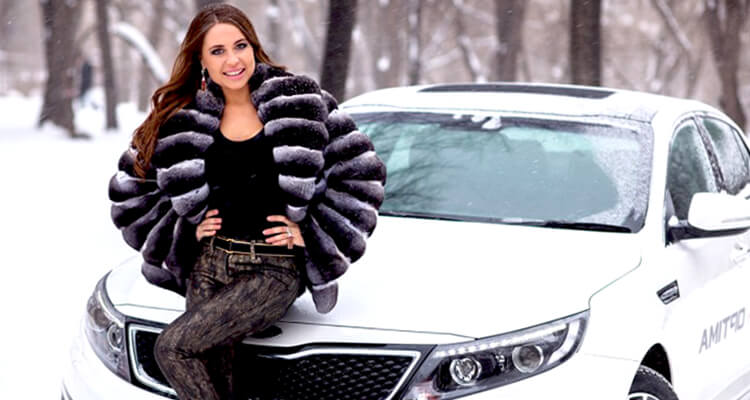 It is worth noting that while driving a car, the awn first of all suffers. In places where there are kinks, it breaks. Thus, the formation of whole "glades" from a broken awn occurs. As a rule, such glades are formed in the places where you sit. A big plus if the seats in the car are leather so that the villi do not get stuck in the weave and do not break. If your car has other seats, then you should think about getting seat covers.
A mink coat for a car should be made of short-haired fur.
Which models are better not to choose:
Fur that is long and voluminous. As a rule, these are fox, raccoon furs. Such furs deteriorate quickly.
Furs that have a stiff and high awn. Such fur coats are made from beaver, muskrat.
Furs that have a fragile mezdra. The chinchilla's fur will only last a year and will eventually break.
Options that are best suited for autolady: mink, skins of marine animals.
How to keep your fur coat safe in the car
First, we must tell you about how to correctly drive a car . This moment is very important! It is necessary to ensure that the fur coat is well straightened, the direction of the fur does not go astray.
A fur coat for driving a car should not hinder movement . Before getting into the car, you need to unfasten the fur coat completely or to the waist. This manipulation is especially necessary to do if the weather is wet. In the car, you need to sit only in an unbuttoned fur coat, otherwise the product will begin to stretch.
If the seats in the car are heated, then you should refuse this function . The fact is that modern models of mink coats are soft and light, but, unfortunately, they are not able to withstand high temperatures. Modern GOST allows heating a mink product only up to 40 degrees, which is an order of magnitude lower than the Soviet GOST.
If we are talking about such a material as mezra, then when heated, it "welds", hardening occurs, elasticity is lost . If the fur coat was subjected to such heat treatment, then it can be considered damaged.
If the autolady prefers a mink coat with a hood, then you should be doubly careful . Before you get into the car, you need to properly straighten the hood so that it does not stray into a ball. After fastening with a belt, the hood must be carefully fluffed up and straightened. The seat belt does not harm the fur coat if you do not actively drive with your shoulders. If suddenly you are stuck in a traffic jam and are listening to music at that moment, you should refrain from dancing while driving.
A fur coat for a car should be chosen as correctly as possible. In this case, it will last a long time, and it will be convenient for a woman to drive a car.
1 020 views
PS If you liked the article, please press the buttons of social networks.